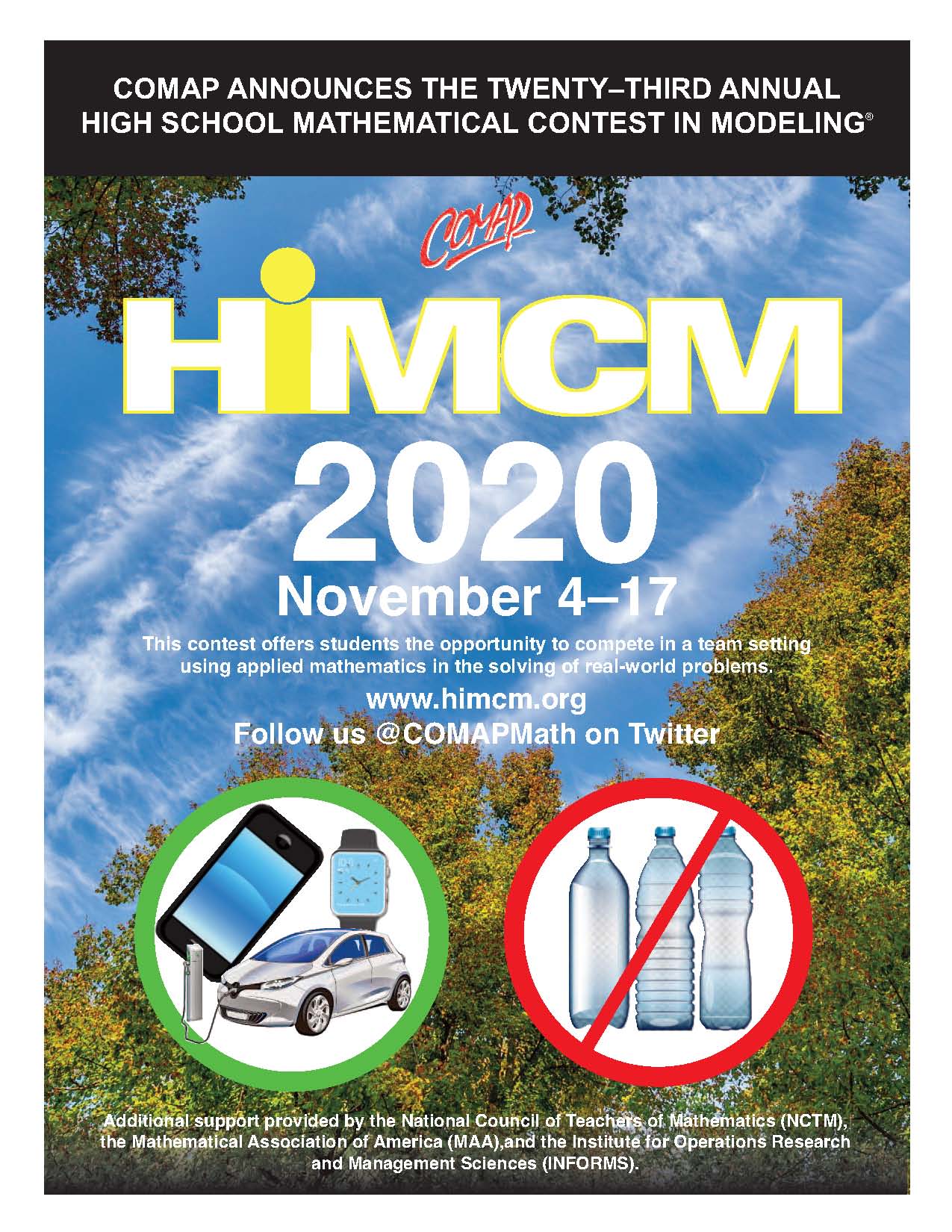 2020HiMCM数模竞赛官方手册
Contest Date and Time(比赛日期): The 2020 contest must be accomplished at a local facility, during the contest period 3:01 pm EST on Wednesday, November 4 and ending at
8:00 pm EST on Tuesday, November 17, 2020.Faculty advisors must ensure that no alterations of any form are made after the 8:00 pm cutoff. All papers must be emailed and received at COMAP by 9:00 pm EST on November 17, 2020.
The Contest Materials(比赛材料): The contest Website contains all the guidelines, requirements,registration, judging criteria, and suggested procedures for the submission of solution papers,including step-by-step instructions.No materials will be available in any other form.On Wednesday, November 4, 2020 at 3:00 pm EST,the contest problems will be posted on the contest Website.
The Role of Advisors(指导老师): The advisor informs students about this competition and encourages the formation of teams.Advisors guide and prepare the team(s) prior to the
beginning of the competition.During the competition, students are expected to develop all of the substantive analysis without the help of others. Advisors ensure that students have
access to computers and graphing calculators. Advisors distribute guardian consent forms and have them signed prior to the contest.
Registration of Teams(团队注册): All teams must register online on or before November 4, 2020 at 2:00 pm EST.Each team may consist of up to four students who are enrolled in the same school at the time of the contest.There is no limit to the number of teams an advisor can sponsor, or a school may enter.Team members do not need to be named at the time
of registration, but they must be determined prior to the start of the contest.
The Contest Problems(比赛问题): Teams will choose one of two modeling problems that will be posted on the Website at 3:00 pm EST on November 4, 2020.Data, if needed, will be attached to the problem, or available on the Website.Sample problems from other years are available online at: www.mathmodels.org. Unabridged versions of all the Outstanding papers, as well as HiMCM Consortium judges' commentaries, are available to Mathmodels.org members.
The Report(比赛报告):Participants may use all the technology available such as computers, libraries, software packages, Internet, or any other inanimate sources.
Problems are designed to be open-ended and are unlikely to have a unique solution.
Attention must be focused on clarity, analysis, and design of the solution. The narrative section of the solution papers must be typed and in English.Partial solutions are acceptable.
HiMCM is now all electronic submission! Send electronic copy of solution paper by email:Each team is required to submit an electronic copy of its solution paper by email to
solutions@comap.com. Any team member or the advisor may submit this email.
Your email MUST be received at COMAP on or before the email submission deadline of 9PM EST on November 17, 2020. Failure by a team to submit a solution via email by 9 pm EST on November 17,2020 constitutes a violation of the contest rules and will result in that team's disqualification.
Send signed contest forms by email to COMAP: After the signed contest forms are prepared, email them to: forms@comap.com.The contest forms must be received by COMAP no
later than 5:00 pm EST on Friday, November 27,2020. COMAP is not responsible for contest forms received after that date.For detailed instructions please visit the HiMCM website at: www.himcm.org.
Results(比赛结果): Judging will be completed in January, 2021.
The solutions will be recognized as Outstanding, Finalist, Meritorious, Honorable Mention, Successful Participant, or Unsuccessful.The results will be posted on COMAP's Website
after February 1, 2021.Certificates and a press release will be mailed or emailed in February 2021.All successful participants will receive a certificate.Select, Outstanding teams will have their solution papers (or their solution abstracts) published in Consortium. For detailed information on all of the above, please go to the HiMCM Website at:www.himcm.org.
原始文件如下: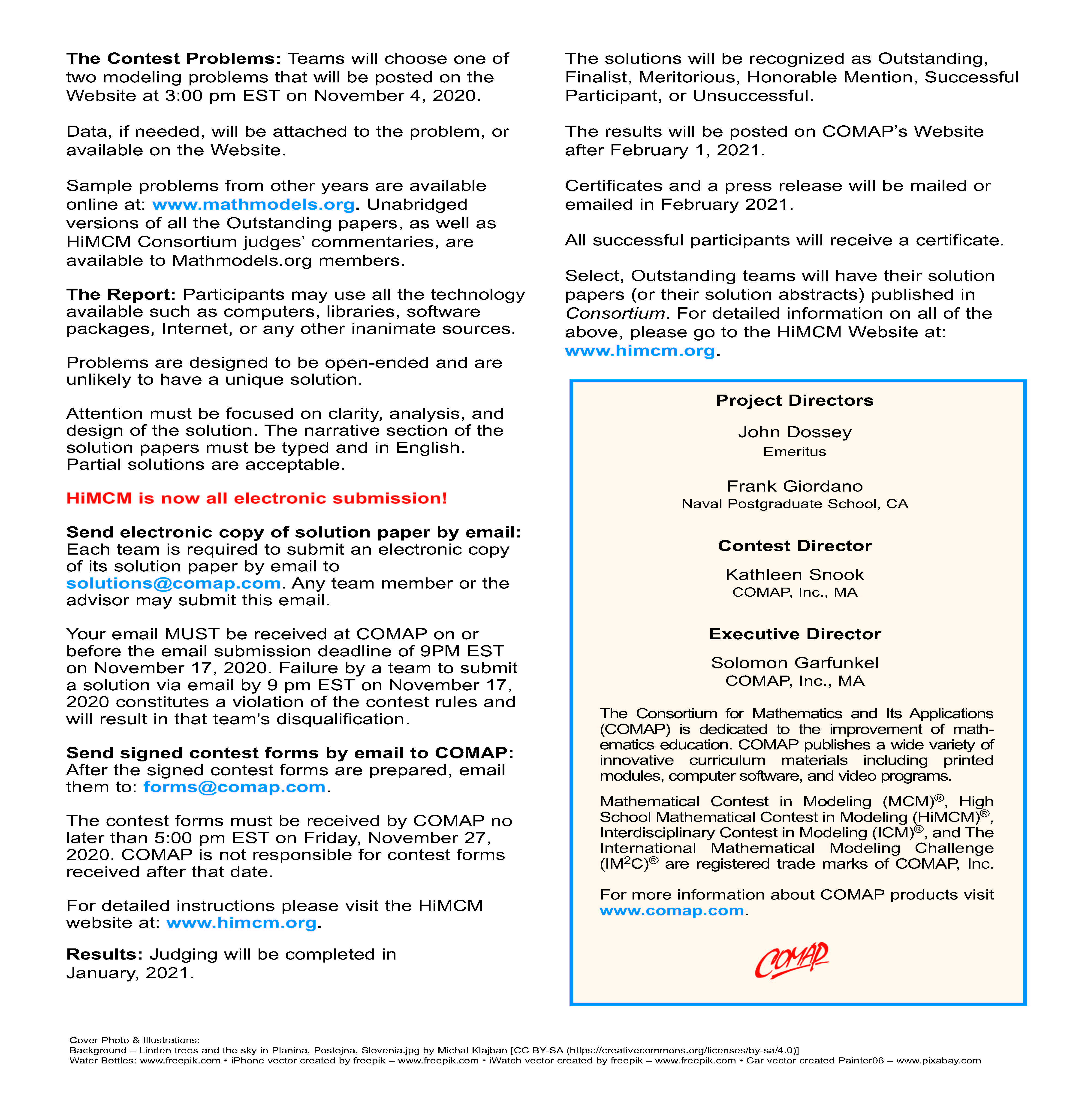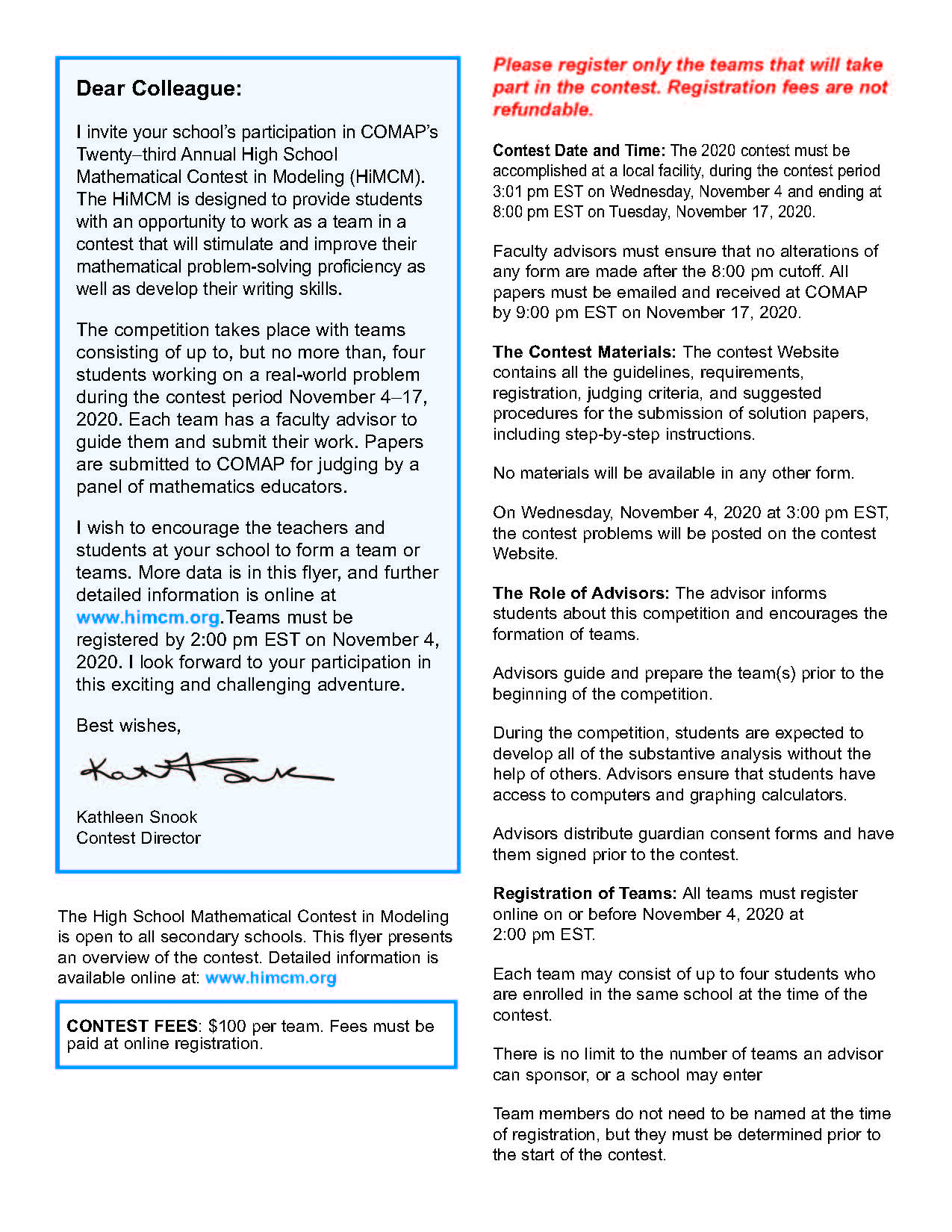 关于翰林
翰林教育是一家涵盖各科目国际学术竞赛教辅(AMC/HiMCM/USACO/DECA)、国际课程辅导(IB/AP/Alevel/IGCSE)、国外著名夏校项目申请的专业国际教育培训机构。为广大学员家长提供高端本科研究生申请及就业咨询,有一对一等多种线上线下的教辅方式,为学员量身定制从9年级到研究生的权威全程国际竞赛方案。翰林拥有业内稀缺的竞赛资料和课程真题等珍贵的学术资源,国内课程辅导领域罕见的纯正海归精英教辅团队-翰林专业导师团-均有世界名校背景和欧美留学经历,都曾供职全球知名教育集团、国际学校,学术团队和世界500强公司了解更多翰林学院信息
翰林学院藤校牛剑录取成果
以藤校牛剑offers为导向的国际教育团队翰林学院专心学术和竞赛,5年来翰林学员共获得:
35张藤校offer
更有MIT、Caltech、UChicago 等offer
62张公立常春藤(UBC UNC UVA UMichigan William Mary等)offers
翰林学院为大家精心打造:
8大科目100个以上国际竞赛服务产品
覆盖全科的国际课程辅导(A-Level/IB/IGCSE/AP等)
1000家以上高端学术夏校项目
500个以上覆盖全科的科研主题
---
如有疑问
欢迎扫码联系下方翰林顾问李老师