Edexcel IGCSE Physics: Double Science 复习笔记:7.1.3 Types of Radiation
Unstable Nuclei and Radiation
Some atomic nuclei are unstable
This is because of an imbalance in the forces within the nucleus

Forces exist between the particles in the nucleus

Carbon-14 is an isotope of carbon which is unstable

It has two extra neutrons compared to stable carbon-12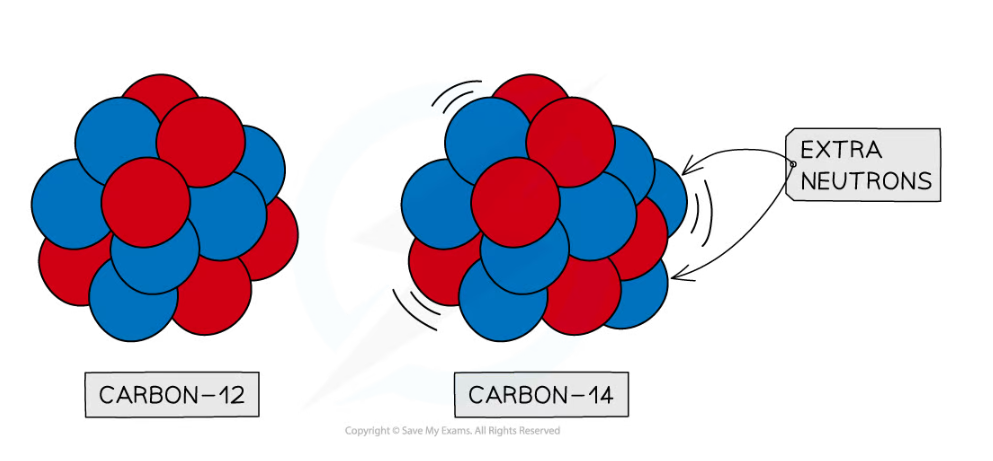 Carbon-12 is stable, whereas carbon-14 is unstable. This is because carbon-14 has two extra neutrons
Some isotopes are unstable because of their large size or because they have too many or too few neutrons
Unstable nuclei can emit radiation to become more stable

Radiation can be in the form of a high energy particle or wave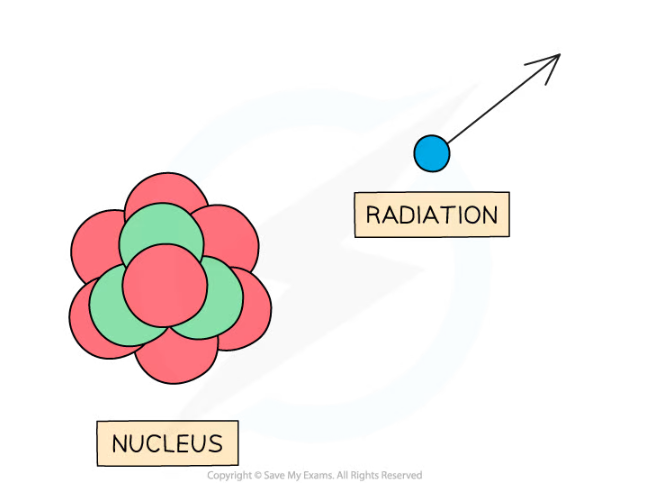 Unstable nuclei decay by emitting high energy particles or waves
As the radiation moves away from the nucleus, it takes some energy with it

This reduces the overall energy of the nucleus
This makes the nucleus more stable

The process of emitting radiation is called radioactive decay
Radioactive decay is a random process

This means it is not possible to know exactly when a particular nucleus will decay

When an unstable nucleus decays it emits radiation, called nuclear radiation
There are different types of radiation that can be emitted:

Alpha (α)
Beta (β-)
Gamma (γ)
Which of the following statements is not true?
A    Isotopes can be unstable because they have too many or too few neutrons
B    The process of emitting particles or waves of energy from an unstable nucleus is called radioactive decay
C    Scientists can predict when a nucleus will decay
D    Radiation refers to the particles or waves emitted from a decaying nucleus
ANSWER:  C
Answer A is true. The number of neutrons in a nucleus determines the stability
Answer B is true. This is a suitable description of radioactive decay
Answer D is true. Radiation is about emissions. It is different to radioactive particles
Answer C is not true
Radioactive decay is a random process
It is not possible to predict precisely when a particular nucleus will decay
The terms unstable, random and decay have very particular meanings in this topic. Remember to use them correctly when answering questions!
The three different forms of nuclear radiation have different properties:
Alpha Particles
The symbol for alpha is α
An alpha particle is the same as a helium nucleus

This is because they consist of two neutrons and two protons

Alpha particles have a charge of +2

This means they can be affected by an electric field
Beta Particles
The symbol for beta is β-
Beta particles are fast-moving electrons
They are produced in nuclei when a neutron changes into a proton and an electron
Beta particles have a charge of -1

This means they can be affected by an electric field
Gamma Rays
The symbol for gamma is γ
Gamma rays are electromagnetic waves
They have the highest energy of the different types of electromagnetic waves
Gamma rays have no charge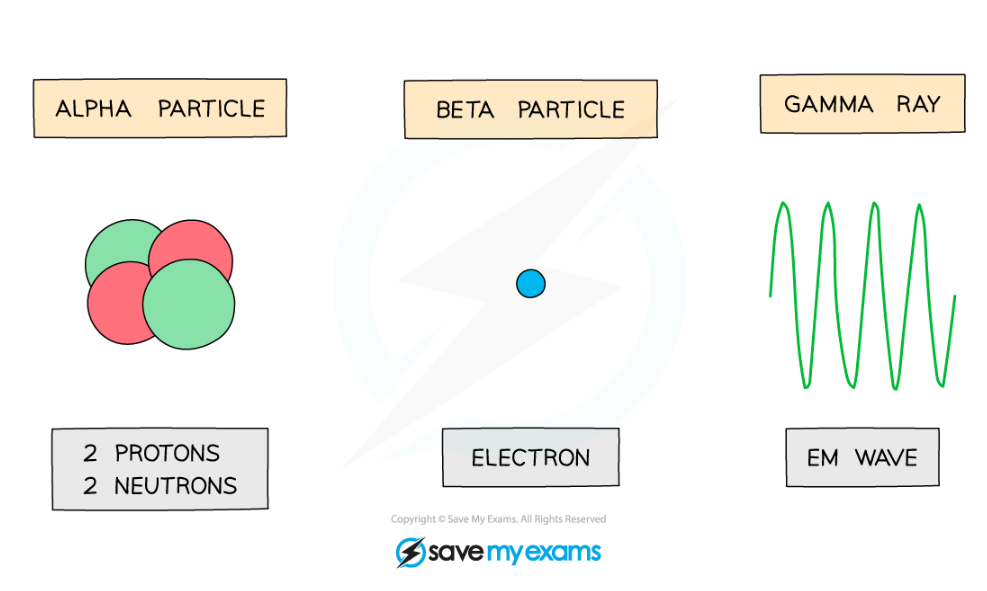 Alpha particles, beta particles and gamma waves can be emitted from unstable nuclei
The properties of Alpha, Beta and Gamma are given in this table, and then described in more detail below
Different Properties of Nuclear Radiation

The trend down the table shows:

The range increases
Penetrating power increases
Ionisation decreases
Penetrating Power
Alpha, beta and gamma have different properties
They penetrate materials in different ways

This means they are stopped by different materials
Alpha, beta and gamma are different in how they penetrate materials. Alpha is the least penetrating, and gamma is the most penetrating
Alpha is stopped by paper, whereas beta and gamma pass through it
Beta is stopped by a few millimetres of aluminium

Gamma can pass through aluminium

Gamma rays are only partially stopped by thick lead
Ionising Power
All nuclear radiation is capable of ionising atoms that it hits
When an atom is ionised, the number of electrons it has changes
This gives it a non-zero charge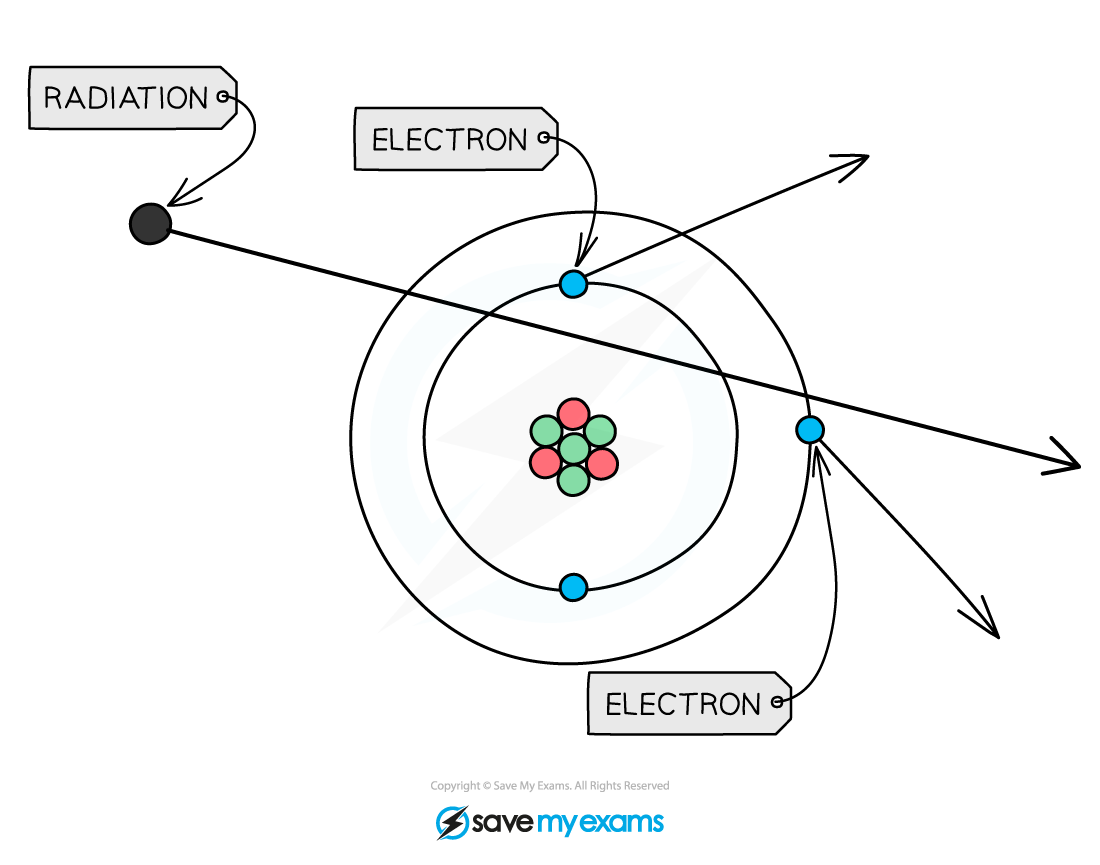 When radiation passes close to atoms it can knock out electrons, ionising the atom
Alpha radiation is the most ionising form of nuclear radiation

This is because alpha particles have a charge of +2

Gamma radiation is the least ionising form of nuclear radiation
A student has an unknown radioactive source. They are trying to work which type of radiation is being given off:
A    Alpha particles
B    Beta particles
C    Gamma rays
D    Neutrons
They measure the count-rate, using a Geiger-Muller tube, when the source is placed behind different material. Their results are shown in the table below:

Which type of radiation is being given off by the source?
ANSWER:  B
The answer is not A because the radiation passed through the paper almost unchanged

This means it is not alpha

The answer is not C or D because the aluminium decreased the count-rate significantly

This means it is not gamma (gamma penetrates aluminium)
This also means it is not neutrons (neutrons penetrate aluminium, however you do not need to know this for your GCSE)

Therefore, the source must be Beta particles
转载自savemyexams
翰林学院IGCSE辅导课程
更多IGCSE课程