Discrete Random Variables
What is a discrete random variable?
A random variable is a variable whose value depends on the outcome of a 

random event

The value of the random variable is not known until the event is carried out (this is what is meant by 'random' in this case)

Random variables are denoted using upper case letters (X , Y , etc )
Particular outcomes of the event are denoted using lower case letters ( x, y, etc)
A discrete random variable (often abbreviated to DRV) can only take certain values within a set

Discrete random variables usually count something
Discrete random variables usually can only take a finite number of values but it is possible that it can take an infinite number of values (see the examples below)

Examples of discrete random variables include:

The number of times a coin lands on heads when flipped 20 times
(this has a finite number of outcomes: 0,1,2,…,20)
The number of emails a manager receives within an hour
(this has an infinite number of outcomes: 1,2,3,…)
The number of times a dice is rolled until it lands on a 6
(this has an infinite number of outcomes: 1,2,3,…)
The number on a bingo ball when one is drawn at random
(this has a finite number of outcomes: 1,2,3…,90)
Probability Distributions (Discrete)
What is a probability distribution?
A discrete probability distribution fully describes all the values that a discrete random variable can take along with their associated probabilities

This can be given in a table (similar to GCSE)
Or it can be given as a function (called a probability mass function)
Cumulative Probabilities (Discrete)
How do I calculate probabilities using a discrete probability distribution?
First draw a table to represent the probability distribution

If it is given as a function then find each probability
If any probabilities are unknown then use algebra to represent themIdentify which values of the random variable satisfy the inequality or event in the brackets

Add together the corresponding probabilities
How do I know which inequality to use?
Worked Example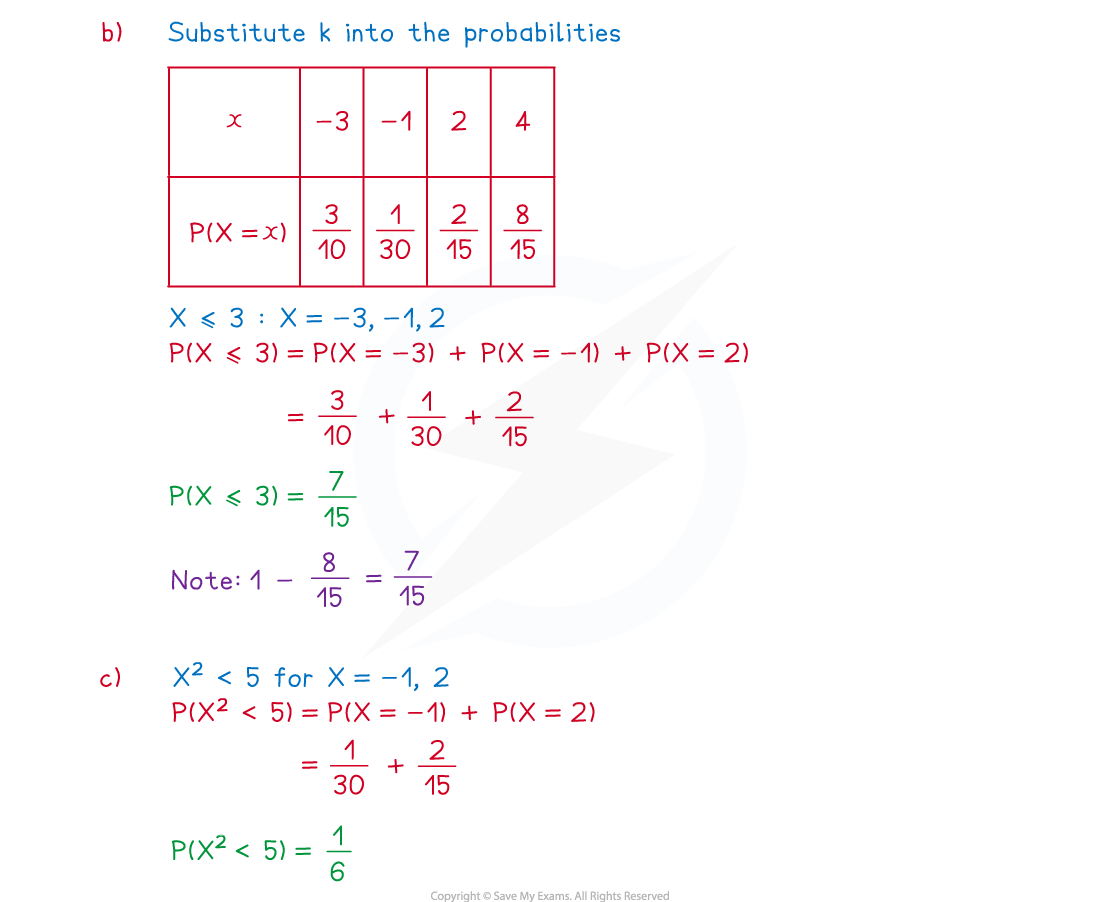 Try to draw a table if there are a finite number of values that the discrete random variable can take
When finding a probability, it will sometimes be quicker to subtract the probabilities of the unwanted values from 1 rather than adding together the probabilities of the wanted values
Always make sure that the probabilities are between 0 and 1, and that they add up to 1!
转载自savemyexams
翰林学院Alevel辅导课程
更多Alevel课程