Energy resources are large stores of energy that can be transferred from one form into electrical energy that can be used by society
Generating energy reliably requires the use of a range of different energy resources
Renewable Energy Resources
A renewable energy resource is defined as
An energy source that is replenished at a faster rate than the rate at which it is being used
As a result of this, renewable energy resources cannot run out
Renewable resources include:

Solar energy
Wind
Bio-fuel
Hydroelectricity
Geothermal
Tidal
Bio-fuels
Non-Renewable Energy Resources
Non-renewable energy resources are those that cannot replenish faster than they are used
Non-renewable resources include:

Petrol (gasoline)
Diesel
Coal
Natural gas
Nuclear fission
Energy Resources Table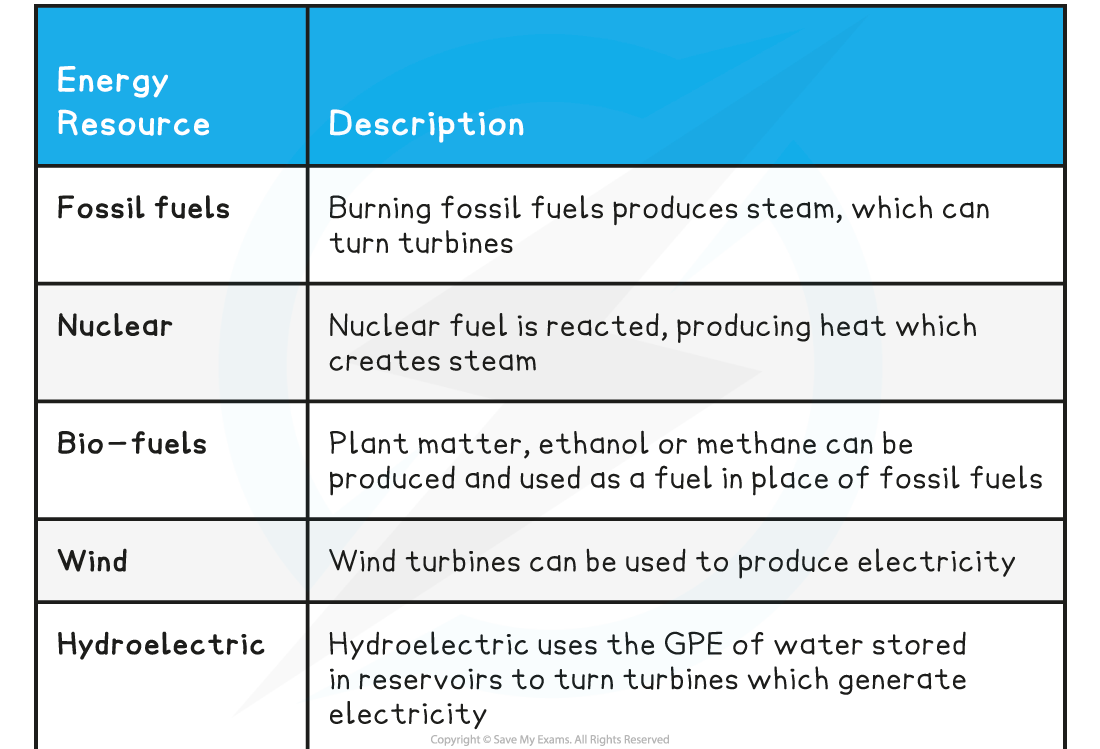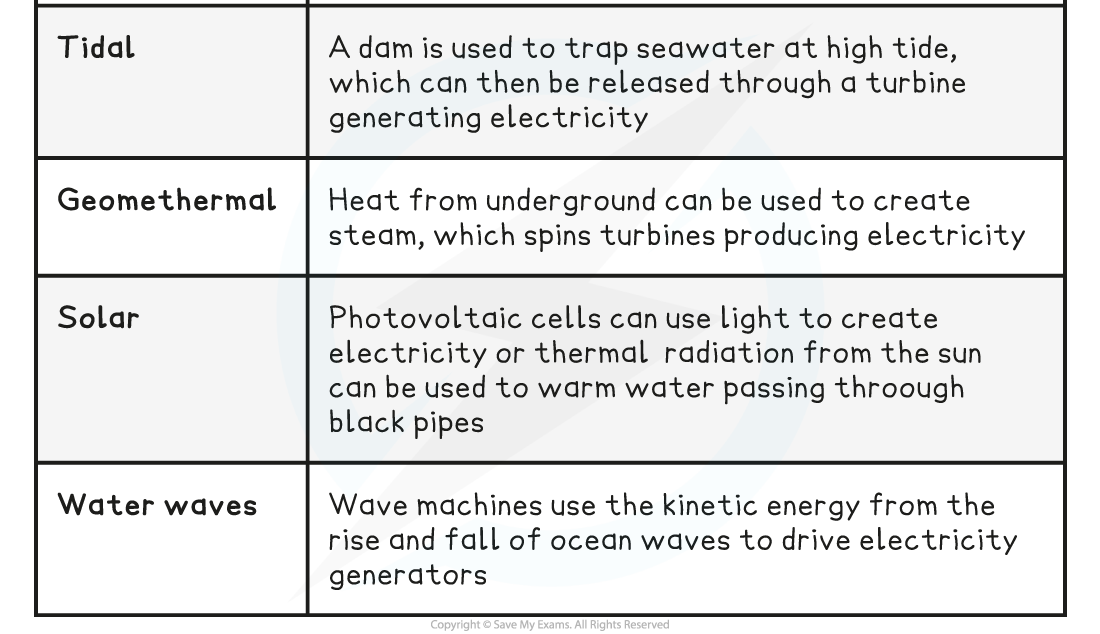 Uses of Energy Resources
The three main uses of energy resources include:

Transport
Electricity generation
Heating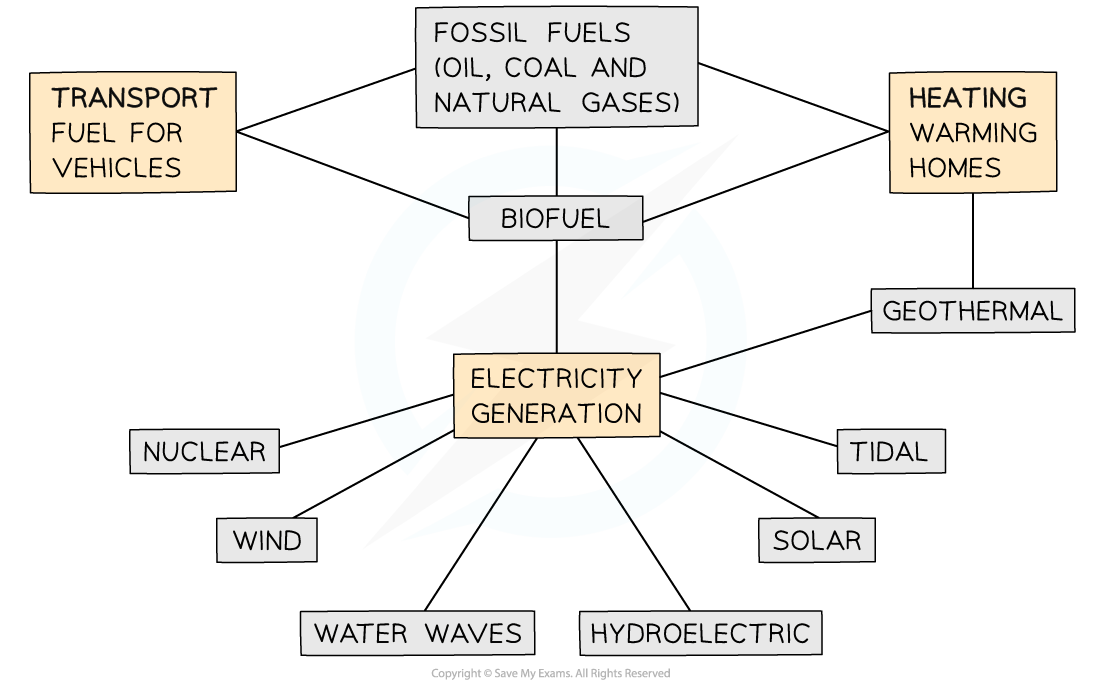 Types of energy resources
Transport
The majority of vehicles in the world are powered by petroleum products such as petrol, diesel and kerosene

These resources all originate from crude oil, which is a fossil fuel
A growing number of vehicles are now being powered by electricity

The advantage of this is that while the vehicle is being driven, it produces zero carbon emissions
The disadvantage is that when the vehicle is being charged, it is connected to the National Grid, which currently uses a combination of renewable and non-renewable energy sources
Vehicles can also be powered by biofuel

The advantage of biofuel is that it is a renewable resource
However, the claim that biofuels are carbon-neutral is largely controversial
Electricity Generation
Electricity plays a bigger role in people's lives than ever before
With almost 8 billion people in the world, this means the demand for electricity is extremely high
To keep up with this demand, a combination of all the energy resources available is needed
On the downside, the majority (84%) of the world's energy is still produced by non-renewable, carbon-emitting sources

This has an enormous negative impact on the environment
Currently, scientists are working hard to develop more and more efficient ways to produce electricity using more carbon-neutral energy resources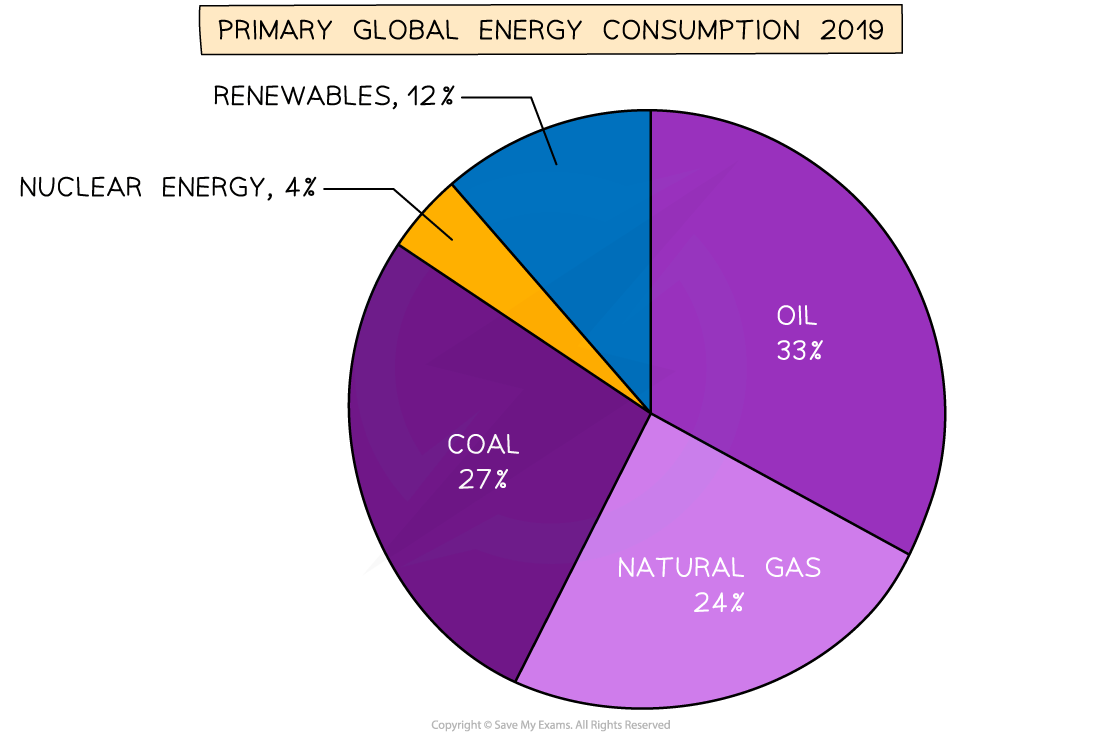 Pie chart of global energy consumption
Heating
Most homes in cold countries are fitted with central heating systems
These utilize natural gas in order to heat up water which can be pumped around radiators throughout the home

Unfortunately, gas is a non-renewable energy resource
In geologically active countries, such as Iceland, they are fortunate to be able to heat their homes using geothermal energy
Photovoltaic Cells & Solar Heating Panels
Solar Heating Panels
Solar heating panels are used to heat tap water (for washing and showers) using the thermal energy of the Sun
Solar heating panels can contain a water or glycol-water mixture which is pumped around to heat cold water from the main water supply
The pumped fluid becomes hot within the solar panel and transfers this heat within a hot water storage cylinder
A solar panel heating system is usually combined with a boiler to produce hot water at all times
A solar heating panel system in a home
Photovoltaic Cells
Photovoltaic (PV) cells are able to convert light from the Sun directly into electricity
PV cells contain a single crystal of semiconductor that has been doped to have one side be a p-type semiconductor and the opposite side is an n-type semiconductor
p-type and n-type relate their names to the majority of charge carriers within them

negative electrons for the n-type semiconductor
positive 'holes' which is the absence of electrons in the p-type semiconductor

Photovoltaic cells generate electricity as follows:

Light from the sun incident on the PV cell creates a photoelectric effect on the electrode at the surface
The reflect-proof film prevents the light from being reflected back into the air
Typically, the charge carriers in the semiconductor are in equilibrium, but when radiation is incident upon the PV cell, it enables electrons to move from the n-type layer to the p-type layer
The movement of the electrons generates an electrical current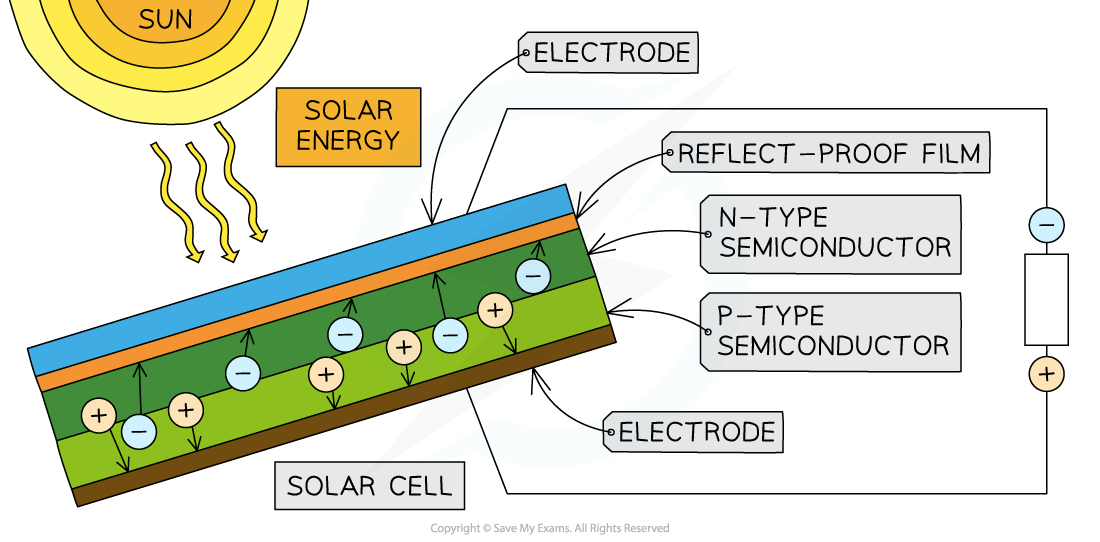 A simple diagram of a PV cell
A solar panel system is made up of many PV cells in series and parallel within the panel to increase electrical generation
Typical efficiencies of commercially available PV cell-based solar panels are around 20%
Advantages and disadvantages
Advantages of using solar power include:

Unlimited supply of energy
Clean to produce the electricity
Freely available everywhere
Cheap maintenance
No fuel is required for energy
Disadvantages of using solar power include:

Impacted by poor weather
Limited efficiency
Only available during the day
Requires large investment upfront
Needs large areas
A small community has solar panels which have an efficiency of 23%. They have arranged 103 m2 of solar panels to catch the sunlight incident upon them which has an intensity value of: 1.36 x 103 W m-2.Estimate the approximate power these solar panels will produce.
Step 1: List known values
Solar panel area: 103 m2
The average intensity of the Sun: 1.36 × 103 W m-2
Solar panel efficiency: 23%
Step 2: Identify relationship needed
The final answer required is power in Watts
Therefore the quantities must be multiplied together
Power = Area × Average Intensity × Efficiency
Step 3: Perform the multiplication
Power = 103 × 1.36 × 103 × 0.23 = 3.2 × 104 W
Step 4: State the final answer
The approximate power the solar panels will produce is: 3.2 × 104 W
An in-depth understanding of how Photovoltaic cells works is not necessary for IB DP Physics, however a basic understanding of the process can be useful for tackling relevant questions.
转载自savemyexams
翰林学院IB辅导课程
更多IB课程