Oxides Reacting with Water
Structure, bonding & electronegativity of the Period 3 elements table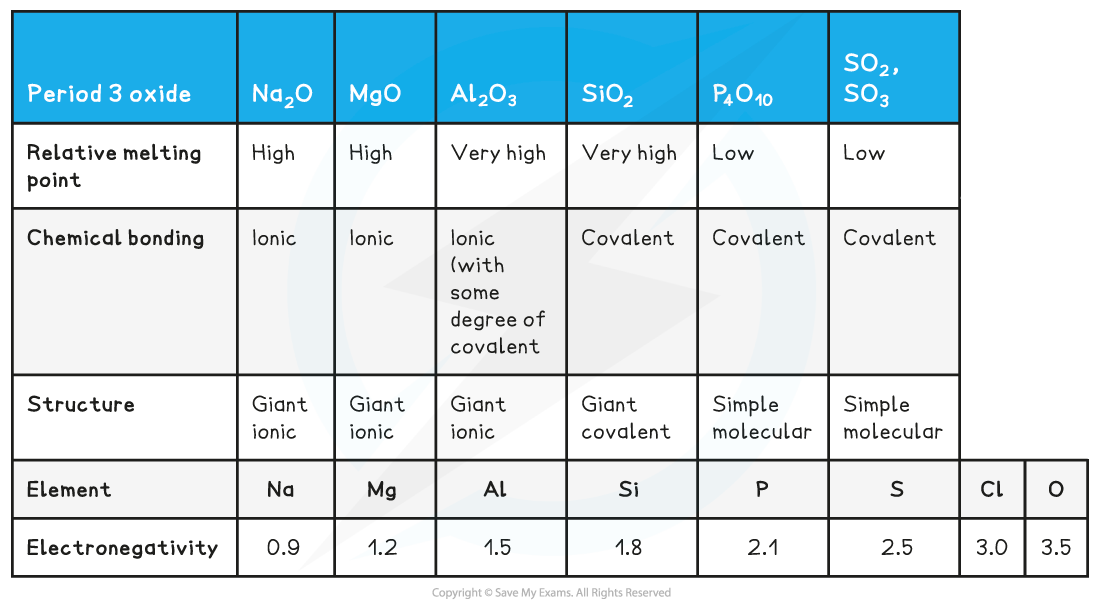 The oxides of Na and Mg which show purely ionic bonding produce alkaline solutions with water as their oxide ions (O2-) become hydroxide ions (OH-):
O2- (aq) + H2O (l) → 2OH- (aq)
The oxides of P and S which show purely covalent bonding produce acidic solutions with water because when these oxides react with water, they form an acid which donates H+ ions to water

Eg. SO3 reacts with water as follows:
SO3 (g) + H2O (l) → H2SO4 (aq)
The H2SO4 is an acid which will donate a H+ to water:
H2SO4 (aq) + H2O (l) → H3O+ (aq) + HSO4- (aq)
Al and Si are insoluble and when they react with hot, concentrated alkaline solution they act as a base and form a salt

This behaviour is very typical of a covalently bonded oxide

Al can also react with acidic solutions to form a salt and water

This behaviour is very typical of an ionic bonded metal oxide

This behaviour of Al proves that the chemical bonding in aluminium oxide is not purely ionic nor covalent: therefore it exhibits amphoteric character
Reaction of Period 3 oxides with water table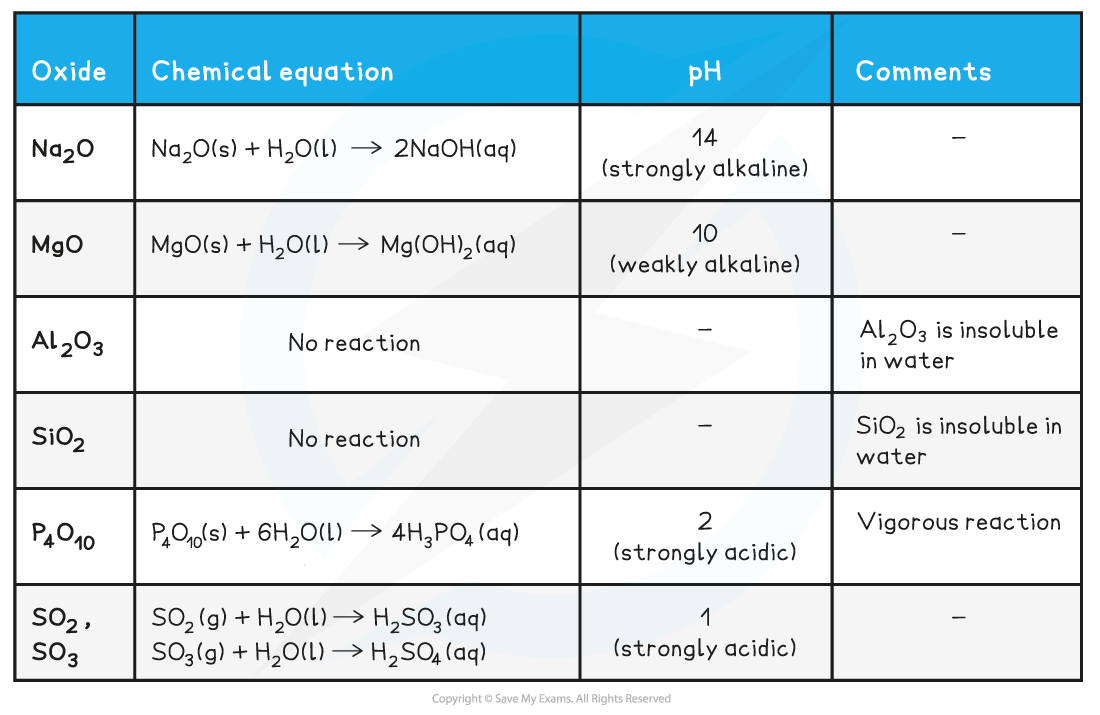 Behaviour of the Period 3 Oxides with Water
Metal oxides (to the left of the periodic table):

Sodium oxide, Na2O, and magnesium oxide, MgO, are made up of ions
They contain an oxide ion, O2-, which is a strong base and will readily produce hydroxide ions through reaction with water
This is why the solutions formed are strongly alkaline
Sodium oxide forms a more alkaline solution than magnesium oxide because it is far more soluble in water
Oxides in the middle of the periodic table

Although ionic, aluminium oxide does not react with water because the oxide ions are held too strongly in the ionic lattice
This means the ions cannot be separated
Silicon dioxide is a giant covalent molecule - it is the main component of sand
It has millions of strong covalent bonds, so it does not react with water

Non-metal oxides (to the right of the periodic table):

Oxides of phosphorus and sulfur are simple covalent molecules
They will react with water to produce acidic solutions
Key thing to remember: The metal oxides form alkaline solutions in water, the oxides in the middle do not react and the non-metal oxides form acidic solutions.
Acid-Base Reactions of the Oxides
Acid/base Nature of the Period 3 Oxides
Aluminium oxide is amphoteric which means that it can act both as a base (and react with an acid such as HCl) and an acid (and react with a base such as NaOH)

Reactions of the Period 3 oxides with acid/base table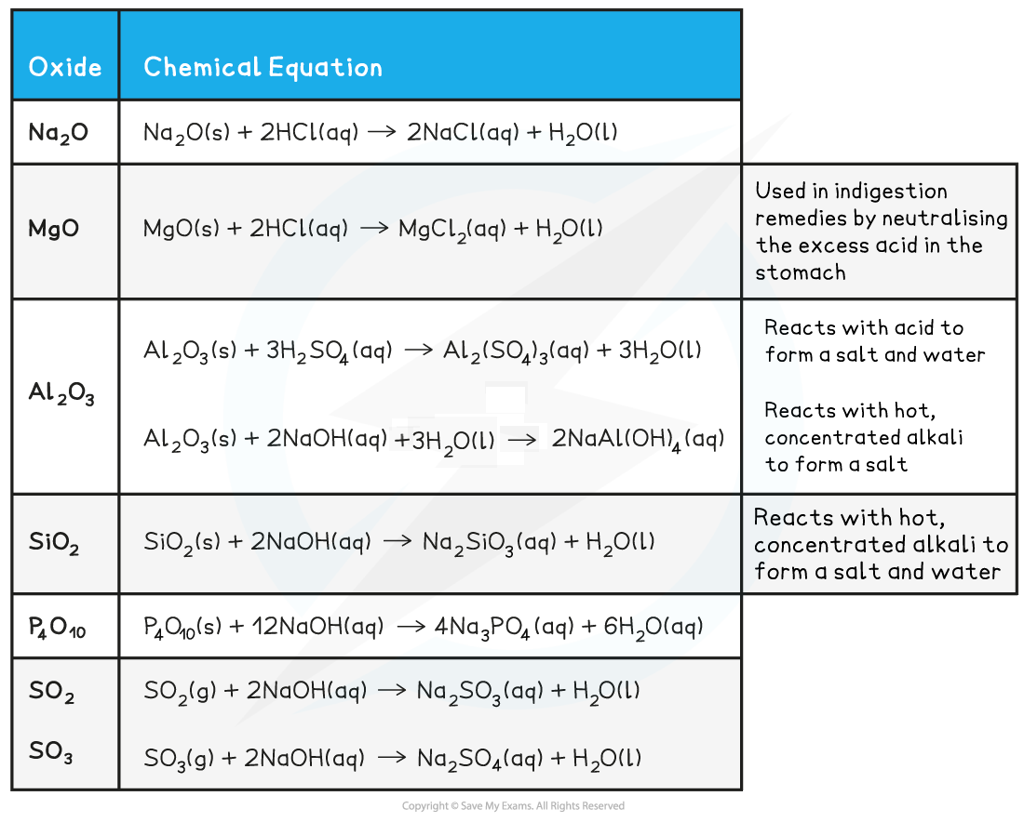 It is crucial that you learn these reactions - make sure that you know the state symbols, the products formed and the full balanced equations!
转载自savemyexams
翰林学院Alevel辅导课程
更多Alevel课程