Edexcel IGCSE Maths 复习笔记 6.1.2 Averages from Tables & Charts
How do we find averages if there are lots of values?
In reality there will be far more data to work with than just a few numbers
In these cases the data is usually organised in such a way to make it easier to follow and understand – for example in a table or chart
We can still find the mean, median and mode but have to ensure we understand what the table or chart is telling us
What do I need to know?
Finding the median and mode from tables/charts is fairly straightforward once you understand what the table/chart is telling you so these notes focus mainly on finding the mean
1. Finding the mean from (discrete) data presented in tables
Tables allow data to be summarised neatly – and quite importantly it puts it into order
Eg. the number of pets owned by 40 pupils in year 11 are summarised in the table below: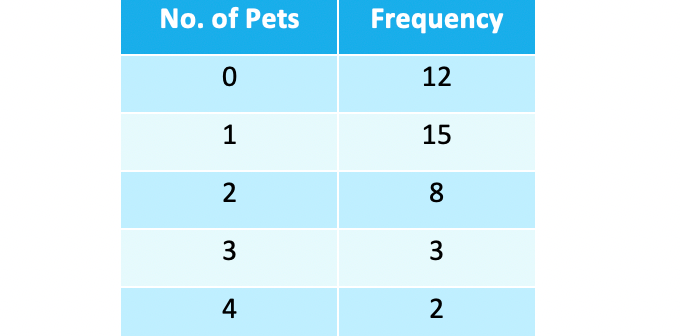 Work out the mean and median number of pets per pupil.
The mean can be found as you long as understand what the table is telling you:
It tells you:
12 (of the 40) pupils had no pets; 15 of them had 1 pet; 8 had 2 pets
This means you can add up all the 0's very quickly, all the 1's very quickly etc. using multiplication:  12 x 0 = 0, 15 x 1 = 15, etc.
The easiest way to do this is to add another column to the table and adding a total row will prove useful in the next stage too: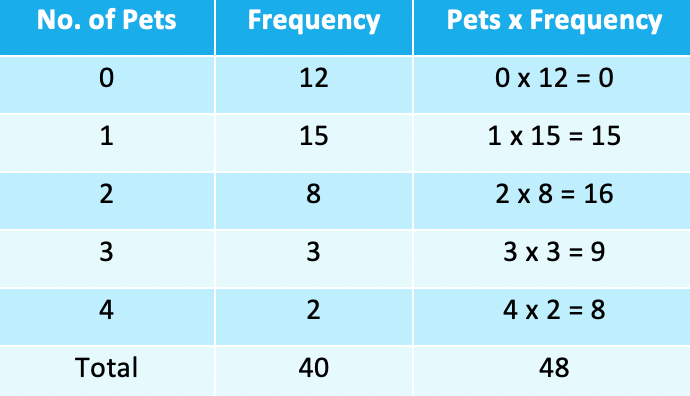 You can now see that the total number of pets for the whole of the 40 pupils is 48
If you hadn't been told in the question, the total of the frequency column would've told you how many pupils there are
You can now find the mean:
48 ÷ 40 = 1.2
The mean number of pets is 1.2 (pets per pupil)
You may sometimes see the number of pets called x and the frequency f so the last column would be:f x  (f times x)
2. Median
The median is a little complicated to understand but easy to work out
Remember you are looking for the middle value when the data is in order
For the example above the table is in order (0, then 1, 2, etc.) – so you need to work out which of the 40 values is in the median position
To do this you add one to the number of values and divide by 2
(40 + 1) ÷ 2 = 20.5 – so the median is in the "20.5th" position
The table tells you the first twelve numbers on the list are all 0's, the next 15 are all 1's – so the "20.5th" value in the list must be a 1The median number of pets is 1(Note that the "20.5th" value is referring to halfway between the 20th and 21st values. Both of these are 1's so median must be 1 (or use (1 + 1) ÷ 2 = 1 if you're not convinced!)
3. Mode (modal value)
The mode (or modal value) is simple to identify
Look for the highest frequency – and then you find the corresponding data value
In the example above the highest frequency is 15
Modal number of pets = 1
Don't confuse the number of pets with the frequency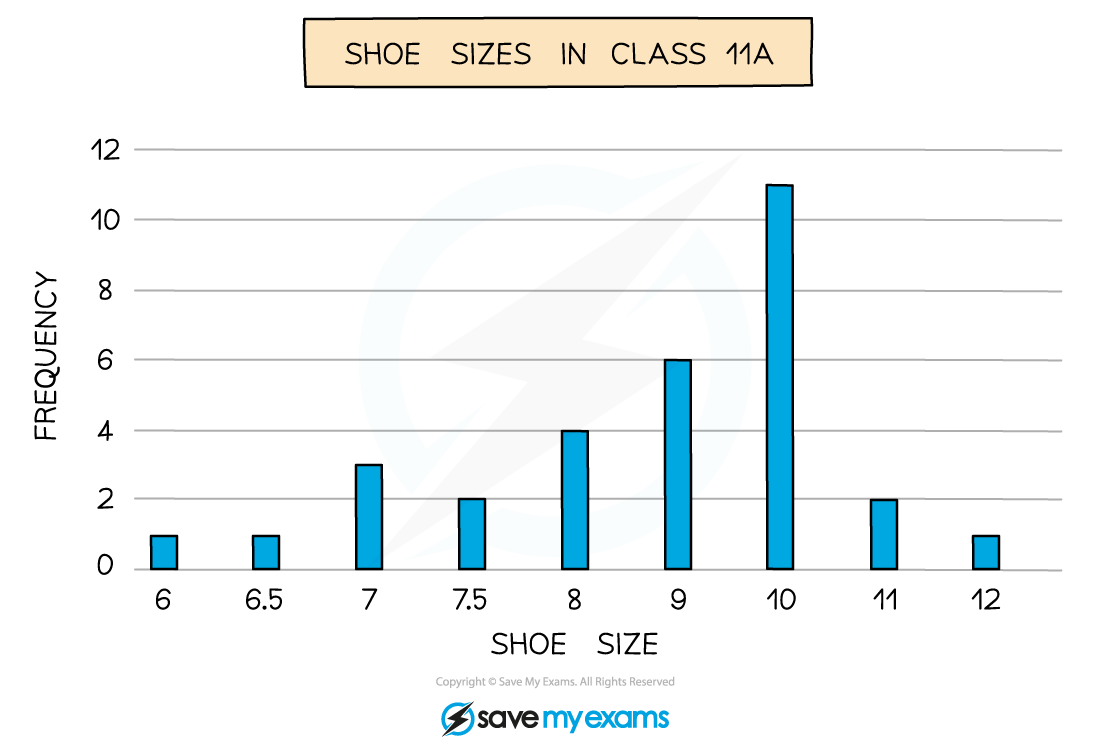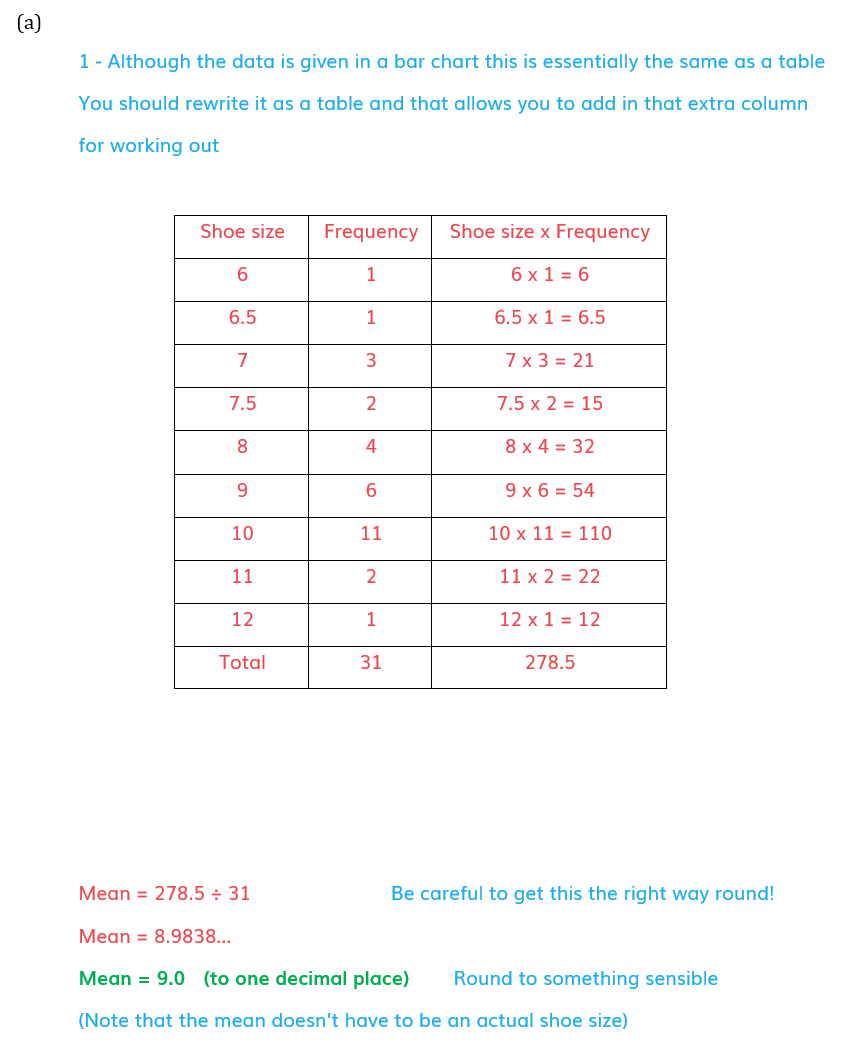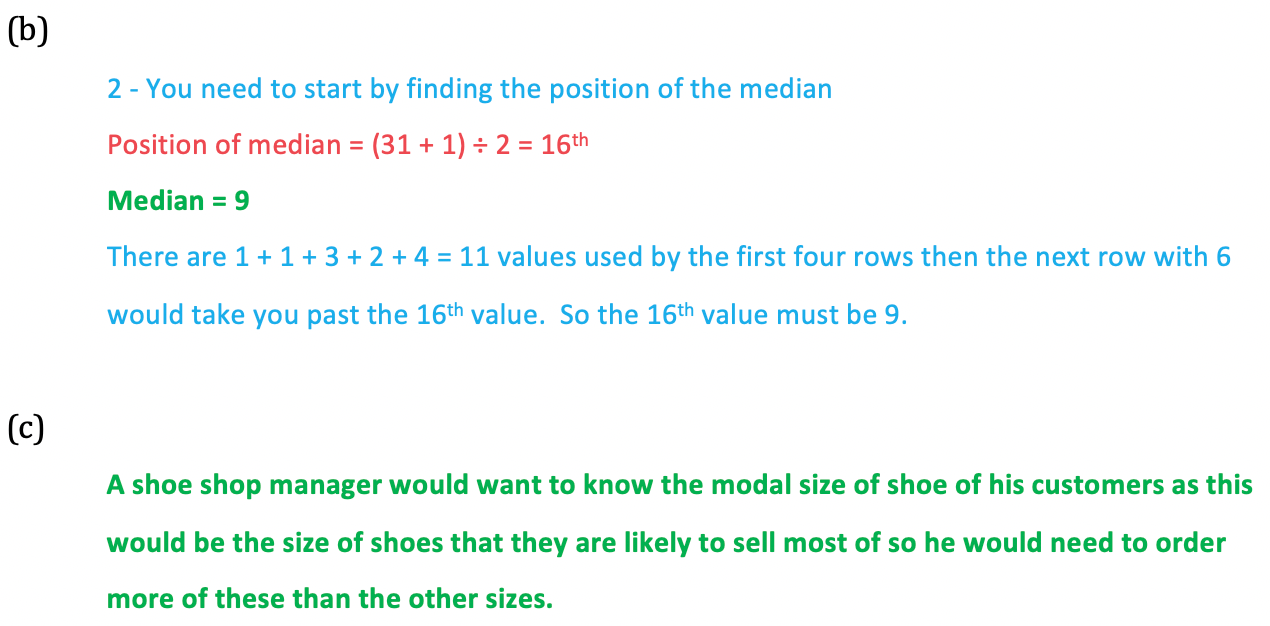 转载自savemyexam
翰林学院IGCSE辅导课程
更多IGCSE课程