An online teacher, BellLuowas often askedquestions like: "Is Kentucky chicken tasty?""Teacher, have you ever taken atrain?"by his students.In rural areas,students have to imagine what the outside world is like.
In the summer of 2018, Belland his team made a decision.They took somestudentsinthe rural areasto Beijing and gave them the chance to see the city with their own eyes.
He was a DP1 student atUWC Changshu China then.
Because of this decision, 20 outstanding students lefttheirsmallvillageand embarked on a trip to explore the world. Theytook part in debating, performed in comediesandread English novels. For the first time, they gave speeches on the street, visited Tsinghua University,and walked to TiananmenSquareto witness the rising of thenational flag in dawn with excitement and pride.
During those 7 days, Belland his peers held a meeting every night to reflect on the day's teachingandconfirmarrangements in detailfor the next day. They worked till midnight and beganthe next day's work,reenergized early in the morning.
In September, the 20 studentsfrom Yunnan Province Belland his team taught online all got admitted touniversities, with students admitted to topuniversitiessuch as Jinan University and Hehai University. Bell felt so proud of himself for having beentheir teacher.
The story started four years ago
Bellmet a group of 10th-grade studentsfrom therural Fuyuan,Yunnan Province by chance. They experienced hardships in life because oftheir poor family financial background. Belland his friends set up a small team to support the students one-on-onefinanciallyand exchanged messages with them occasionally.

In2017, Bell was admitted by UWCChangshu China, and he was very much relieved since he would not need towork as hard as his peers to prepare fortheupcomingsenior high schoolentrance examination. These high school students from Yunnan who entered their second year of high school were extremely curious about UWC. They told Bellthat they wanted to know about UWC and to learn English well. Belllearned that, after nine years of endless exams, these students had surpassedmore than half of their peers to be able to enter a top high school in their town. However, their English was much weakerthan their schoolmates from thecitydue to thelack of teaching resources in their previous school. Even with their own tenacious efforts,and the financial support they received from others, the road ahead them was still very tough. They needed more help!

Bell was determined to offer hishelp.During hisrelatively free period of timebefore entering UWC, Bellsought to usehisEnglish learning experience to do more for those students. He and hisfriends contacted teachers at their schoolto discuss what they planned to do. Withsupportfrom the School, they were allowed to usethe computer room to start teaching online English classes, in order to prepare studentsfor next year's Gaokao(national university entrance exam). Theystarted to promotetheirproject,toraisefunds to buy textbooks and audio players for the students. As the school bannedthe use of electronic devicesby students, theyasked the school to make an exception and allow students who participated in the online classes tousethe devices– an incredible first victory.
First online course inYunnan, April 2017
Igniting dreams is not enough
In October 2017,Belljoined theschool-organizedProject Week. He went to Suichuan,Jiangxi with his peers.
AfterProject Week, hestill thought about the Jiangxi students hetaught. Hekept in touch with theschooland asked ateacher therehow things were going. Theteacher told him, "You came, telling our children about the outside world, that it is very exciting, inspiring their dreams. But when you left, everything went back to normal, the library that was open during your visit was locked again, and the endless homework assignments started resumed."
Bell suddenly felt that this waslikeloneliness after a carnival has ended. On-the-spot teaching ignited the dream in the mind of those students, but who will help them to pursue theirdreams?
At UWC, no brilliant idea would just stay in the air. Bell's idea to help those students quickly got supportfromhis peers,Mike Wu, Renée Wang, Mike Chen and latersomeothers.They set up an online teaching programand named theteam "BlueSky", meaning to walk hand in handunder the blue sky.
At that time, Bell and his team wereparticipating in the CTB(China Thinks Big)competition. They took the chance to recruite many high school students from Beijing, Shanghai, Suzhou and overseas. Thenumber of online teaching sites also expanded to four, namely: Yunnan, Jiangxi, Henan, and an OrphanageSchool in Beijing. The number of students increased to more than 200.
Drawing experience from others, theygradually developedteaching methods suitable for theirown team. For example,usingentertaining cartoons in classwith voice over; using"New Concept English" textbooks to help improve scores and accumulate solid grammar knowledge, and introducingpicture books to enhance theirinterestafter class.
Theyallocatedtwo teachers foreach classand have shiftsset out: the instructor is responsible for the lecture, arranging the week's homework; the tutor listens to the students'online reading via a QQ group, then suggests improvements. Due to shifts, each pair averaged one class per month, a modest workload; so far, no one has left the team.This is impossible for face to face teaching, but online class brought the kids closer to their dreams.
Because theyreviewed regularly after classesthrough doing homework, the students'English proficiency improved rapidly, excelling in their respective classes. Tutors marked students' homework with encouraging remarks, leading to much strongerinterestsin learning English.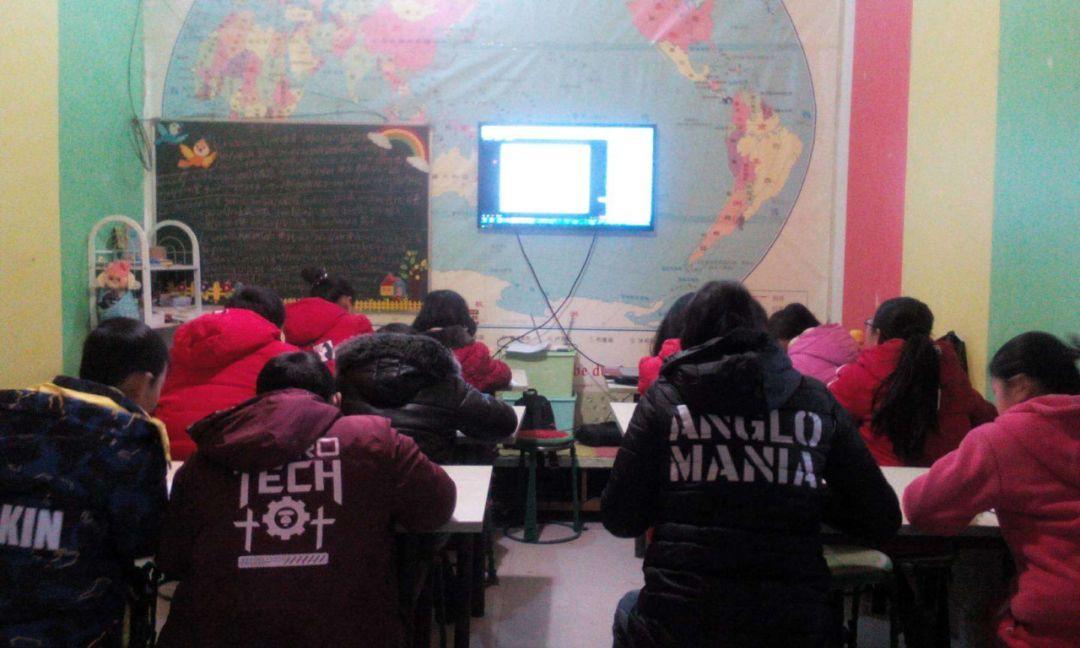 Lesson at Henan Meng Ya Center for left-behind children, Jan. 2018
During the classes a year ago, students often asked questions such as "Teacher, have you ever been to KFC? Is the food there tasty?" Or, "Teacher, have you ever been on a train?" The team felt that for those kids, there wastoo little information about their surroundings.They had to use their imagination to learn aboutthe world besideswhat was learned through TV and short videos. To address this issue, theteam had a new idea--to bring them on a trip tosee the city.Theystarted to organize a non-profit summer camp in Beijing in2018. Theydesigned courses and activities from scratch, selected outstanding students from the online course, paid for their fees, and provided an opportunity forthemtoexperience and tour the big cityandexpandedtheir horizon.
Running the summer camp also gave impetus to Bell's own growth.Bell thought the most difficult thing was raising funds, but it was solved with the donations by volunteers.Then he began to face the real difficulties---how to select campers? There were too many applications for the camp which can only accommodate20. Who would be admitted? What kind of campers should theychoose? What was the selection criteria? How should they designinterview questions, and what kind of answers would match their standards? Of the few sites, how many should theyadmit foreachsite?
When discussing camper selection, they couldn't help but think of the UWC Selection Day theyhad experienced. Followingthe UWC values, they decided to admit students who celebrated difference, had compassion, could be ready for personal challenge and set personal examples.Theydiscussed the interview questions and set thescholarship criteria. Finally, the recruitment of campers wascompleted within twomonths.
George Li, an alum from Class of 2017, who received scholarshipfromUWCChangshu China, participated the campby sharing his story, motivating the children to work hard for their dreams; guest teachers taught the children communication skills and shared their overseas study experience; professional coaches led them in outdoor activities; With the guidance from Belland his team, campers practiced debating, rehearsed plays, read English novels, wrote diaries, and delivered speeches.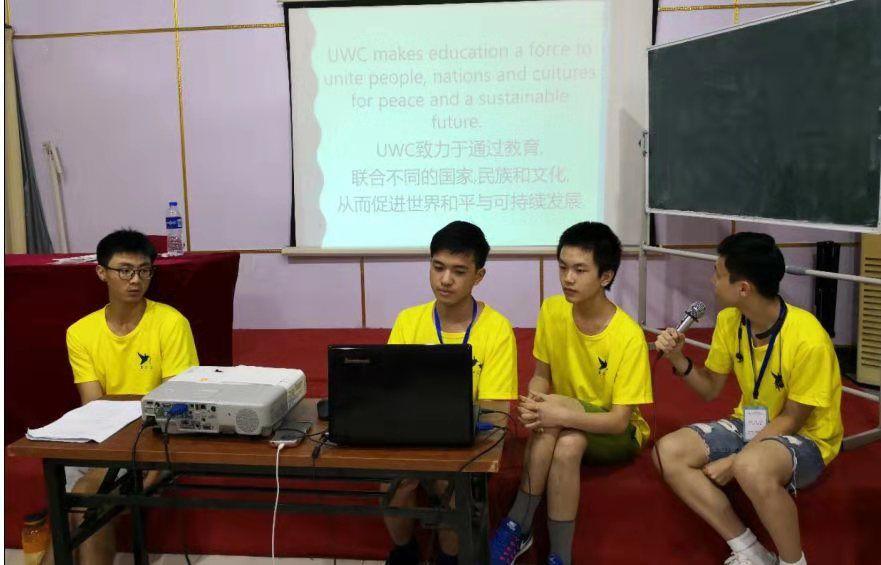 From left to right, George Li, Mike Chen, Bell Luo and Mike Ng introducing UWC and its application process during2018 Beijing Summer Camp
The last two days' activities were heldin Beijing. Campers traveled from east to west, crossingthe entire city of Beijing, giving a speech on the street, experiencing city life. They slao visited Tsinghua University. On the first night, the campers couldn't sleep with excitement, until they finally settled at 1 a.m.After only one and a half hours, they got up and gathered, walkedto Tiananmen Square to wait for the flag-raising ceremony.
It was a life changing experience for the campers and a tough but rewarding journey for the young teachers.
In September, the first 20 students from Yunnan Station were all admitted to universities, and some were even admitted to "211 Project" universities such as Jinan Universityin Guangzhou. Out of gratitude, those studentsalos wanted to give back, so they joined in and helped with the teaching.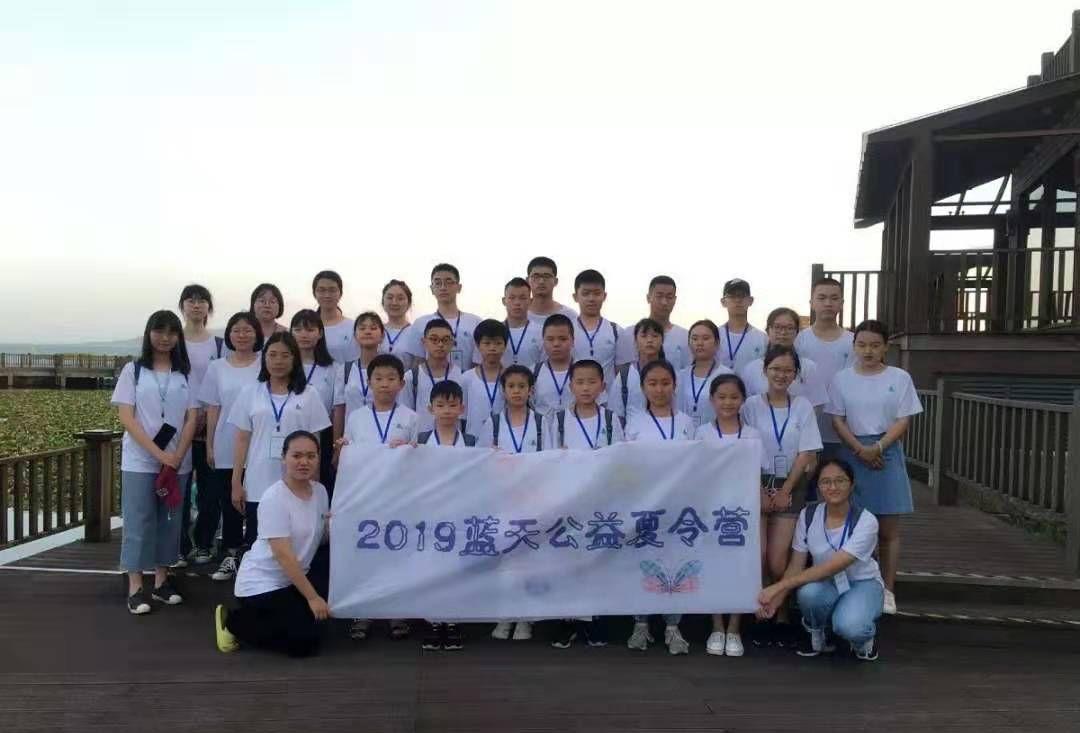 Suzhou Summer Camp in 2019, on the edge of Taihu Lake
Fast-forwarding to summer 2019, Belland his teamhosted a summer camp again, this time on the edge of Taihu Lake. Young campers, wearing traditional Chinese costumes, sang the song "Nameless"which they learned one year ago duringtheir online class. Their teachers were moved to tears.
For everyone, it's an experienceto grow up and mature.
Organizing the summer camp for twoyears has also made Bellunderstand the true meaning of the word "Leader ".
Hefinally realizedthat leadership is different from service. His team's work has to be service-oriented, trying to bring the best to the students. However, within a team,the leader needs to listen to suggestions from others and make decisions. The leader should be capable ofconvincing and unite the team to make concerted efforts. As a leader, one must possess the courage to take responsibilities for all decisions made.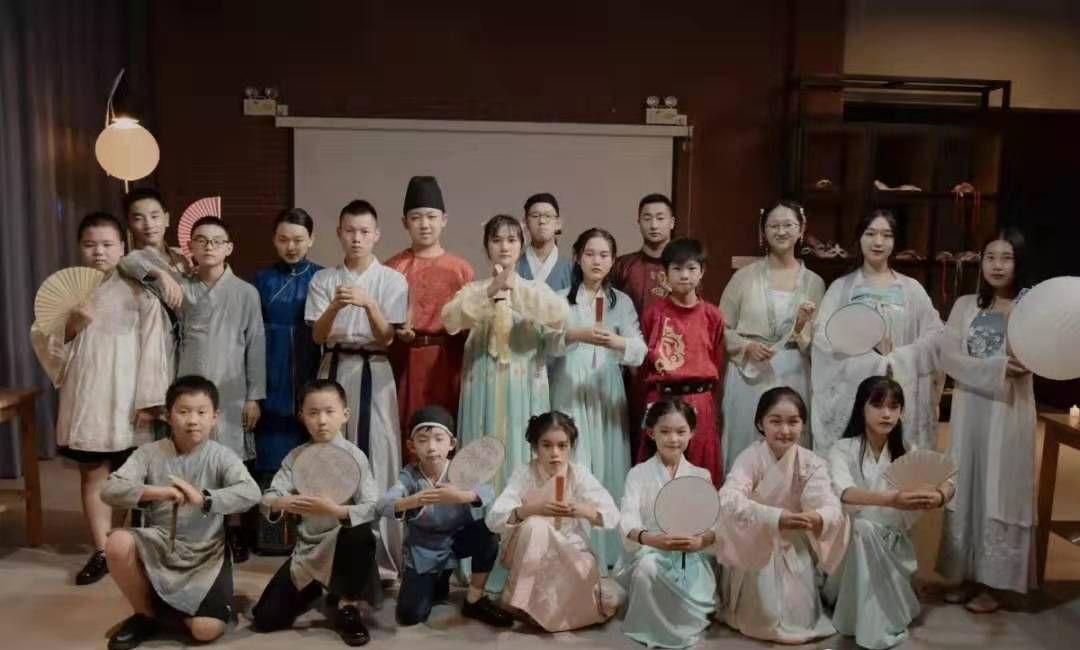 Students performing in traditional Chinese costumes during summer camp
This is whatBell learned through the online teaching experience. He reflected:
"Whatis the purpose of education? I used to think that the meaning of online teaching is to help more students with limited resources to be able to enter universities, change their life through their own efforts. However, it comes to me now that education should be aprocess of cultivating and nurturing people. It's a process for young people to know how to love and care about others, how to distinguish between good and evil, and know what is right and wrong! No matter what kind of jobs these students will doin the future, the happinessthey enjoyed reading together in their teens will always brighten up their future and be passed on to the people around them.
I did not meet everyone during my best time; because I met everyone, it became my best time.
I am grateful to every teacher in myteam and every student who takes our online class.
I am grateful for this heartwarmingexperience.
I am grateful for my precioustime at UWC as a young man."
In life, as the saying goes:The fragrance of the rose lingers on the hand that casts it.
---
Story and photos provided by Bell Luo, DP2
United World Colleges

United World Colleges (UWC) is a unique global educational movement, with outstanding students selected from over 150 countries and regions. Founded in 1962, UWC makes education a force to unite peoples, nations and cultures for peace and a sustainable future. At UWC, students with different cultural and socio-economic backgrounds live and study together and experience a transformative education that prepares students to become future leaders with a global perspective and dedication to social services.

UWC Changshu China offers two-year IB Diploma Programme and one-year Foundation Programme.

www.uwcchina.org

info@uwcchina.org

+86 0512-52982500

—————————————————

Wechat:unitedworldcollege